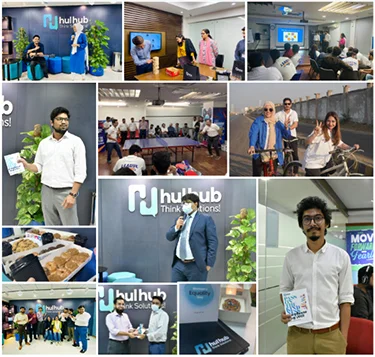 How We Do IT Better?
We Exceed Expectations
We truly have a culture of spoiling our clients by giving them more than what they ask for and always exceeding their expectations. Our retention of clients is based on the "WOW" factor that is only created by surprising them with extra.
We Help Each Other Thrive
It's not a rat-race at Hul Hub that makes you hate Mondays! There can be two best players at Hul Hub. Collaboration, going out of your way to help others and making sure no one is left behind is what we stand for. We have an amiable culture that makes you happily pick up your partner's call on a Friday day-end.
We Embrace Change
We accept and embrace change with a welcoming and calm tone. It not only allows us to adapt better to change and become more flexible but also allows us to thrive.
We Take Ownership Of The Outcomes
As responsible individuals, we equate accountability with ownership to bring about positive results. It is being held accountable for the results of your actions - that are of the highest quality and delivered in a timely manner.
We Speak The Truth
As we expand and scale, we take pride in delivering about our successes and failures. It is an integral part of our culture to observe transparency and honesty in all our dealings and embed that into our daily practice too.
We Create Employment Opportunities
At Hul Hub, we actively identify market gaps and try to find solutions for them. We're against discrimination of any sort and is an equal opportunity employer.
We Move Forward Fearlessly
Moving forward means facing your fears. To live in that constant fear makes us vulnerable and doubtful but what is there to fear when we know you are a gladiator? Welcome change, rise to the situation, take initiative and never surrender to adversity.
We Grow Together
When you're part of our team, you just have one way, growth. We know the best people grab the opportunities and take the growth pathway. We hired you for you and for our customers. Growth is not just for our team but for our customers to lead the market too.
Achievements That Take Us Forward
0
Years Of Development
Experience
Our Purpose
To Create Employment Opportunities To Uplift The Community And Our Society.
Mission
We Strive For Excellence In Whatever We Do.
Vision
At Hul Hub Clients And Employees Become Partners And It Is Our Commitment To Our Partners That We Will Grow Together Towards Unrivaled Success And Brilliance.
We Build Digital Products That Power Businesses
Our Location
We are spanned across three continents to deliver unprecedented business solutions for business needs.
Miami
London
Karachi
Yokohama